Ever visited a site a site only to leave thinking the content was not relevant to you? The concept of "personalization" aims to bridge the content relevance to visitor type gap. And the good news is WordPress supports personalization as much as the big boys of content management.
We won't go into native personalization features in this blog, instead here are five personalization plugins which help add a personal touch to your WordPress site.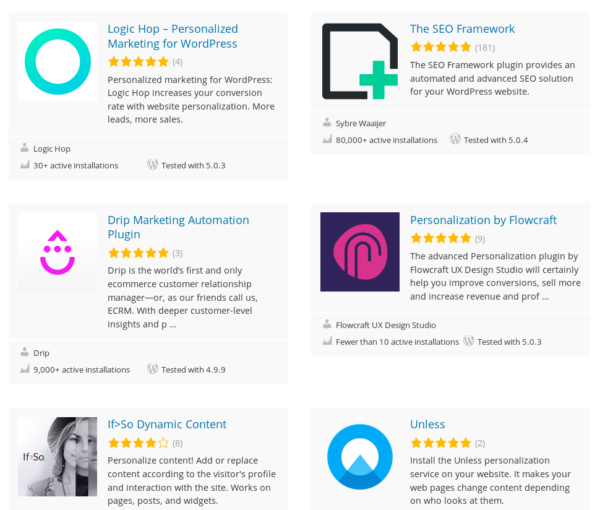 1. Personalization by Flowcraft
Personalization by Flowcraft allows you to use a shortcode to specify a "condition" you create to show personalized content, from images and posts to custom widgets. Its authors are confident you can personalize "practically everything on the website".
A premium version is available which extends the free plugin's feature set.
URL: https://wordpress.org/plugins/personalization-by-flowcraft/
2. If>So Dynamic Content
As its name suggests, If>So Dynamic Content will dynamically generate content in response to different visitor profiles and interaction with the site.
The plugin features a visual editor so no coding is required.
URL: https://wordpress.org/plugins/if-so/
3. PureClarity
Personalization can be applied to any type of content, including e-commerce content. PureClarity has developed a WordPress plugin for its AI-driven personalisation service. If a known visitor is presented with a relevant offer, the person is more likely to transact. Well at least that's the theory.
The plugin integrates with WooCommerce online store.
URL: https://wordpress.org/plugins/pureclarity-for-woocommerce/
4. Logic Hop
Logic Hop is another cloud service which collects information about site visitors which can be used for content personalization.
The Logic Hop WordPress plugin personalizes content using shortcodes and widgets, and its core functionality can be extended add-ons for third-party services.
URL: https://wordpress.org/plugins/logic-hop/
5. Unless
Unless is a cloud-based personalisation service. The WordPress plugin allows you to segment visitors into audiences and deliver tailored content to each audience.
The plugin works in combination with the Unless dashboard. Track your campaigns with Unless analytics.
URL: https://wordpress.org/plugins/instant/
So there you have it, WordPress content can be personalized to suit your various audiences and customers.
Good luck with your personalization journey and serving up more relevant content.